Zoupart
Support Bruemmer Park Zoo!
SAVE THE DATE!
Zoupart 2019
February 24, 2019
11:00 TO 2:00
Kewaunee County Fairgrounds, Luxemburg WI
Handmade Bowls and Art
Algoma Grade School
Kewaunee Grade School
Luxemburg-Casco Intermediate School
Kewaunee High School
Luxemburg-Casco High School
Holy Rosary Catholic School, Kewaunee
St. Mary's Catholic School, Algoma
St. Mary's Catholic School, Luxemburg
St. Paul's Lutheran School, Ellisville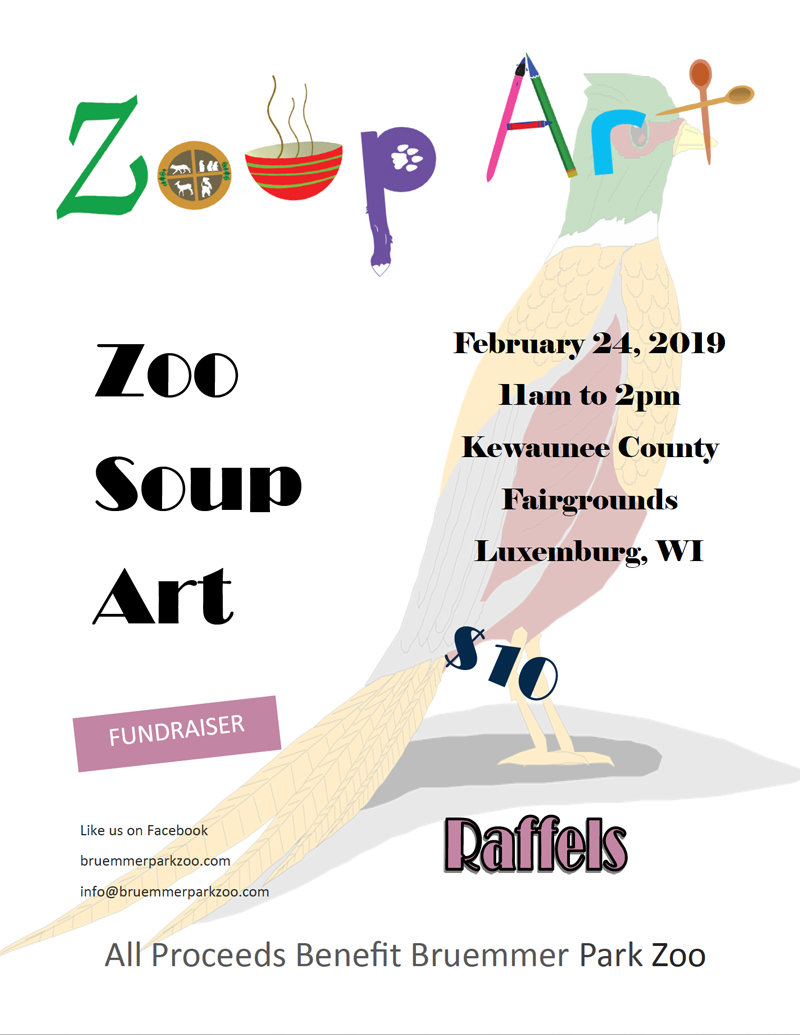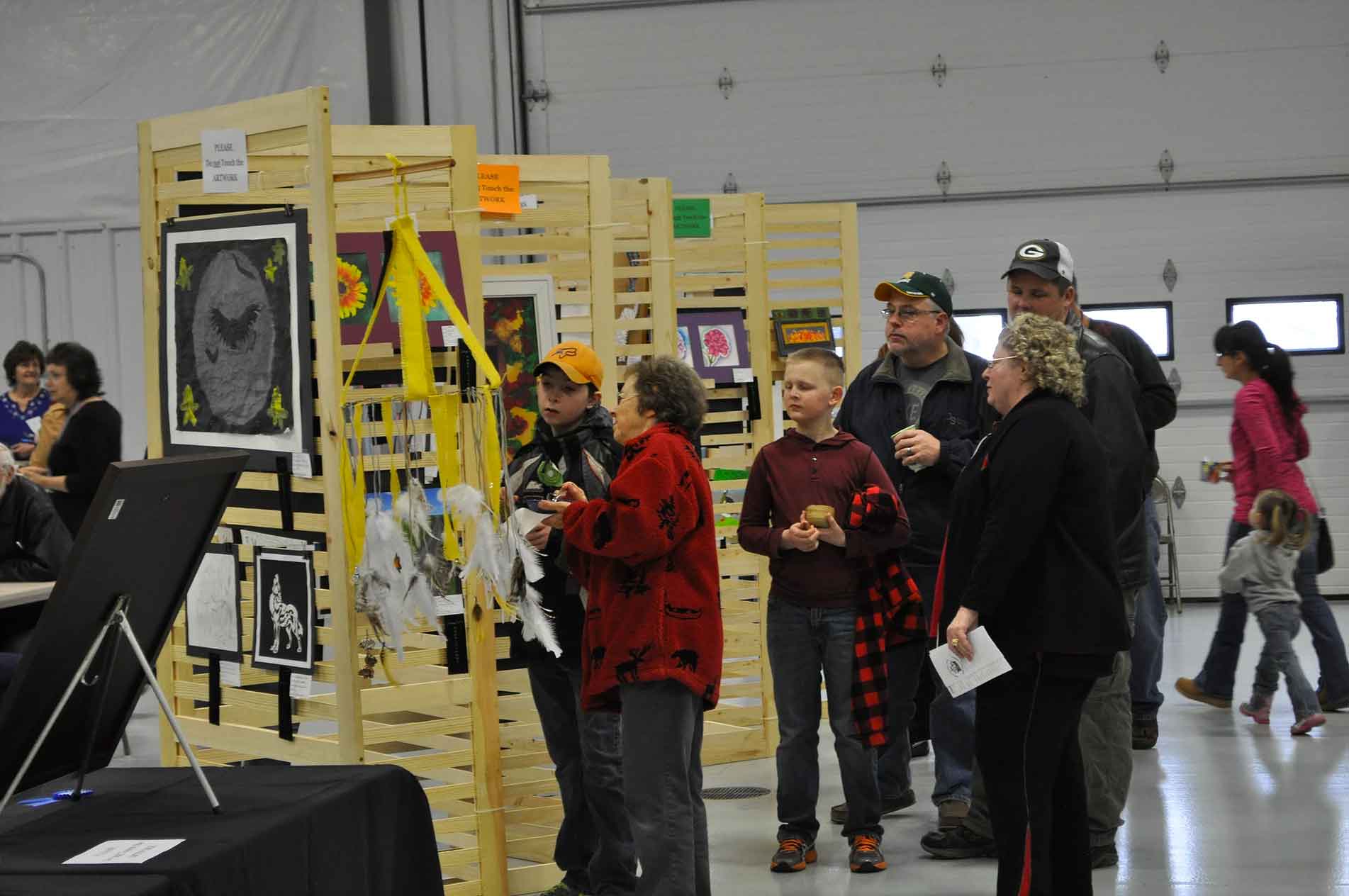 Thank you to our amazing donors in 2018!
Vollrath
Restaurant Grand Prize
Stainless Steel Utility Cart  #97120
Including 2 Bowls and Utensils
​Green Bay Phoenix
Parallel 44
Home Cook Grand Prize
Marchant's Foods
Jimmy Eddings, Algoma
Kendra Bulgrin, Algoma
Ileen Ross, Algoma
Nicole Woodward, Algoma    Power Cooker Plus
Mason Lukes, Luxemburg
Clay on Steele, Algoma
Milwaukee County Zoo
Sweet Season's Restaurant
Green Bay Gamblers
Door County Maritime Museum
The Farm
Ahnapee Brewery
The Quilted Fish
Von Stiehl Winery
Rivers Edge Galleries
Kewaunee County H.C.E.
Cornette Farm Supply
Yogi Bear's Jellystone Park of Door County
Jorn's Chevrolet
RiverEdge Galleries
Harbor Express
Kuehl Seed Farm
Team Clean
Steel Chiropractic
Port-O-Call
Shopko
Bob's Auto
Salentine Repair
Nuhlicek's Service
Cold Country Wine
Kewaunee Chiropractic Works
Pretty Please
Sanctuary Salon-Amanda
L Salon
Don's Bakery
McDonald's
Weisner Massart
Village Kitchen
Seiler Tires
CZ's Bushville Lanes
Burdick's Bar & Grill
Salmon Meats
Billy's on Main
Hello Dolly
Subway Algoma
BellaLuna's Apothecary & Boutique
Algoma Pizza Bowl
City Slickers Salon & Spa
Craig's Piggly Wiggly
And to our amazing Schools
St. Mary's School, Algoma
St. Paul's School, Ellisville
St. Mary's School, Luxemburg
Holy Rosary School, Kewaunee
Kewaunee Grade School
Kewaunee High School
Algoma High School
Algoma Grade School
Luxemburg-Casco Intermediate School
Luxemburg-Casco High School
Zoupart 2018
Restaurant Soup Donors
Gib's on the Lake – Loaded Potato
The Fill-In Station – Creamy Portabella with Wild Mushrooms
Uncorked by Skaliwag's – Smoke Sausage Beer Cheese Potato Soup
Moe's Corner – Cheesy Potato & Bacon
Rose's Family Restaurant – Chicken Dumpling
Kewaunee Piggly Wiggly – Chili
Tippy Canoe's Bar & Grill – Chicken Fajita Soup
Waterfront Bar & Grill – Lasagna Soup
Kewaunee Custard – Chicken Dumpling
Krazy Cow – Chicken Noodle Soup
Stodola's IGA – Beef Noodle Soup
Janda's Bar & Grill – Cheesy Brat Soup
Dairy Dean's Family Restaurant – Cheesy Taco Soup 
Rendezvous of Luxemburg – Taco Soup
Davister's Bar & Restaurant – 2018 Mystery Soup
Heather Dachelet – Dill Pickle Soup
Greg & Mary Coenen – Garden Beef Vegetable Soup
Grandma Gayla of Maplewood – Split Pea & Ham
Debbie Bauer – Creamy Cauliflower
Lindy Dorn – Lasagna Soup
Darlene Boeder – Turkey Vegetable
Sue Benson – Mic-Kale-La's Vegan Soup
Kristal Dart & Da-Ran Dairy – Chicken-n-Rice
ZOO HOURS
7:00AM to Sunset - Year Round
NO PETS
Pets are not allowed in the Zoo or Park.